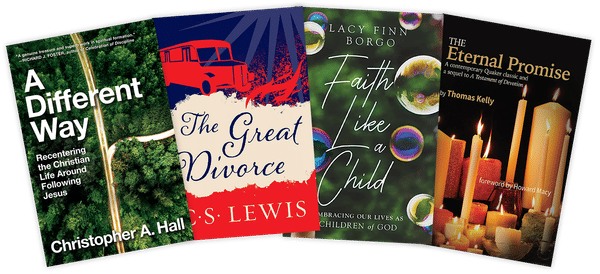 Read with heart.
Journey through soul-shaping, Christ-centered books.
Fall registration now closed.
October 2023 – May 2024
Membership Includes
Reading schedule, email reminders, podcasts, and essays.
Exclusive content from the author or seasoned guide.
Thoughtful discussion with other members.
Optionally join—or start!—a small group online or in-person (where available).
Real Comments from Members
What people appreciate about the Renovaré Book Club
"Worth investing in to build a rhythm of thoughtful engagement with your faith."
"Great book selections. Great book resources. Great community. It creates deep roots and leafy branches of spiritual formation."
"The Renovare Book Club offers helpful, useful content at a nice pace. I feel like I am reading with friends who keep me on track and offer incredible insight into what we are reading."
"I like the accountability of reading a book with a group."
"It's a safe place to be challenged and encouraged. Exposed me to new authors and content that pushed my boundaries. I will do another year for sure!"
"I've been looking for a book club like this for a long time! Great variety of books from theological classics, spiritual practices, and biography."
"Very engaging, stretching, and enlightening!"
"Solid mix of books; practical, theological, soul and heart feeding. Terrific resources and accountability as well."
"Always a good selection of books, new
&
old. Great resources, podcasts, etc. An excellent way to keep learning and going deeper in your relationship with the Lord."
"We're seeking God hard and at a level previously unknown. The bonding and love that [the Book Club] facilitated as we put our heads together and work out our salvation… Priceless."
"Being introduced to books that I normally would not read. It stretched me spiritually. It was a growing and great experience."
"It broadened my diversity experience in the Church."
"Finding like-minded Christians trying to thrive in a consumer-driven environment"
"I gained insights into love, perseverance thru suffering, thankfulness, non-violence, understanding the thinking of ancient times…"
"These books helped me to more fully understand the presence of God in my life and begin to include Him more in my daily experiences."
"I was challenged to rethink my walk with the Lord and draw closer to him through more meaningful prayer and transformation of my mind."
"It was a real blessing to read things I would not normally read and be able to discuss them with new friends. It greatly expanded the benefit derived from each book due to the broadened perspective of other believers. Also, it was fun to share time with other book nerds like me! 😁"
"In addition to reading four books (yay!), I have noticed my shift in thinking.… becoming closer to Jesus. It was very beneficial."
"Meeting with a group of people who were reading and wrestling with the material alongside me made for rich conversations. Others took notice of things that I missed."
More Comments...
Books for 2023-24
Chosen by the Renovaré Book Club Selection Committee
Book 1 ·  October 2–November 17
A Different Way
by Christopher A. Hall
Facilitated by Christopher A. Hall
Book 2 ·  November 27–January 26
The Great Divorce
by C.S. Lewis
Facilitated by Junius Johnson
Book 3 ·  January 29–March 15
Faith Like a Child
by Lacy Finn Borgo
Facilitated by Lacy Finn Borgo
Book 4 ·  March 18–May 10
The Eternal Promise
by Thomas R. Kelly
Facilitated by Ted Harro
Meet the Facilitators
Facilitators provide exclusive audio and written content and participate in a members-only Q&A webinar.
A Safe Space to Go Deeper
The Internet can be a scary place sometimes, especially when it comes to discussing close-to-the-heart topics. The Renovaré Book Club strives to create a space where people ask without fear, seek understanding, and honor one another even if there is disagreement.
You can choose to participate in a private online community, an In-Person or online small group, or no group at all and simply follow along and enjoy the resources. It's up to you.
Meaningful Small Group Discussions (Optional)
Members may optionally join a small discussion group run by a volunteer coordinator. These video or in-person groups typically meet once a month at different times.
Groups are hosted by volunteer coordinators. Renovaré manages the group list but does not oversee each group. When you join the Book Club, you'll be given contact info for group coordinators.
View Group Times & Locations
Book Reveal Webinar Replay
Learn more about the selected books
FAQ
General
Founded by Celebration of Discipline author Richard J. Foster, Renovaré is a Christian nonprofit that creates resources and kindles communities which help people become more like Jesus. Learn more about Renovaré.
Membership includes reading schedule with email reminders, study guides, podcasts, essays and a members-only discussion forum where you can interact with other members and the Renovaré team members leading the sessions. Membership also includes access to volunteer-led meet-up groups — virtual or in-person — in select areas.
Timing (Start Date, Ship Dates)
Our 2023 – 24 season officially begins on October 2, 2022. This year, enrollment in the Book Club for all four books closes on October 9, 2023.
Another enrollment period for the last two books will open January 2024.
Due to the event-like nature of the Book Club, memberships are not returnable/refundable. Thanks for your understanding and for your support of the work of Renovaré.
Join by September 22, 2023 so that you will most likely receive your book by the day we start reading the first book — October 9, 2022. (The first week of club, beginning October 2, is a prep week.)
Thank you for your order. Books will begin shipping out the week of September 18. You should receive an email notification (containing a tracking number) once your book ships, and it should arrive within a 7 – 10-day window. If you've been waiting longer than two weeks after your email notification, please let us know at [email protected] so we can investigate.
Once you join, you will have perpetual access to this season's resources and access to the discussion forums throughout the summer. We leave everything accessible on the Book Club dashboard through early September.
Once we archive all of the resources, we send members a link to access them. We do not preserve the discussion boards past the summer.
Books
We have two membership options:
With-Book Membership: Renovaré sends you the first book of the season, A Different Way by Chris Hall; members must then purchase or otherwise obtain the other three books of the

2023

 – 

24

season.
Membership Only: Members must purchase or otherwise obtain all four books of the

2023

 – 

24

season.
Books may be borrowed from your local library, purchased at your local bookseller, or purchased using Amazon or CBD links on the Book Club purchase page (links support Renovaré).
Readers sometimes find it easier to use the recommended editions, as page numbers and other details can be edition-specific. The weekly reading assignments themselves do tend to match with chapter breaks.
Note: We are also aware that our readers are increasingly using ebook versions of the texts, and we will do our best to make the reading assignments make sense for the digital versions of our chosen editions as well.
With-book memberships only include the first book, A Different Way. You will receive an email notification when your book ships, beginning after September 19th.

We will ship the books via USPS media mail and members will receive a tracking number in their email notification. Most US addresses will receive their books within 7 – 10 days.

All other books of the season must be sourced by members. Please visit your local bookseller or library to obtain them or see our books page to learn more about ordering books online.
Local Meet Ups
We have been greatly encouraged by the discussion small groups — online and in-person — led by our wonderful member-volunteers.
Renovaré publishes the list of meet-ups but does not have a direct role in hosting the groups. Here is the list of current groups. (Once you become a member, you'll be able to see group coordinators' contact info.)
That said, here are a few things to keep in mind:
Your membership fee covers the study guide, podcasts, essays, weekly reminders, and access to the online community. Meet-ups, whether virtual or in-person, are a free bonus to the Book Club made possible by volunteers. Because of that, Renovaré cannot accept responsibility for individuals' experiences — whether as host or participant — in a Book Club group.
You must be a member of the Book Club to connect with a local host. We have assured our hosts that their information will only be made available to those who belong to the Book Club. Once you join, you will receive a special link to the coordinators' names and email addresses so you can connect with them.
Dates and times of meet-ups are set by hosts and are published on the Book Club website for your convenience.
New volunteers are always signing up to lead, so do continue to check the listings as we draw nearer to the start date. If you would like to volunteer to coordinate a group online or in person, please use this Group Coordinator Application Form.
We expect our Book Club members to treat one another as Jesus would, with the highest level of honor and respect. Any sort of abuse or harassment will not be tolerated — whether in-person or online.
Thank you!
A list of available groups will be posted here soon!
Note that you must be a member of the Book Club to contact local volunteer hosts about meet-up times and locations. You will receive a special link with host contact information in your welcome email once you join the Club.
How The Book Club Works
Each year the Renovaré Book Club Selection Committee, which includes Carolyn Arends, Richard Foster, and other Renovaré team members, meets and chooses the titles for the Book Club. Dozens of new and classic books are considered and carefully narrowed down to four choices. This is an independent selection process — no publisher can pay to have its book included.
Each session has a facilitator (either the author or an expert on the book) who will help you grow as you read each title. They provide bonus articles and podcast messages about the book, but they do not engage on the discussion forums. You will have an opportunity to post a question for the facilitator that might be included in each session's third and final podcast/webcast, which is driven by members' questions.
Our Renovaré staff works together to moderate the discussion board and engages as they are able.
Finally, our regional virtual and in-person meet-up groups are coordinated by volunteer Book Club members.
All resources and discussion are through a special Book Club members website. Members receive their login information via email within a half an hour of joining the Book Club.
The Renovaré Book Club can fit just about any schedule. We read each book over six weeks but include a prep week at the start and a wrap-up week at the end, so there is plenty of cushion. The reading ​"assignments" are not more than 50 pages per week.
At the beginning of each book, our members receive an outline of the proposed reading schedule. Every Monday, we send out an update that includes:
A reminder of that week's reading assignment
A supplementary resource (usually an article or a podcast) from that book's facilitator
(Sometimes) optional bonus resources for members who want to go deeper
A discussion question for those who wish to engage in online discussion.
All of the resources, once posted, are available all season. There are no ​"live" online discussions (members can post at any time), and you may engage as much or as little as you would like online.
Members who participate in a virtual or in-person meet-up led by a volunteer coordinator will gather once-a-month at a time and day determined by the volunteer.
We love group participation in all forms! If you'd like your group members to receive the Renovaré Book Club weekly emails and have access to the online discussion forum, each member will need to register for the Club separately.
If, however, you'd like to use the Renovaré Book Club materials to lead your own group offline, you can register yourself and purchase a group license. This will allow you to give your group access to printable resources and a sharable link to podcasts and webinars.
We offer two offline group licenses. You must first purchase a standard membership before purchasing a group license.
$

75

for a small group license of up to

12

people.
$

195

for a large group license of up to

50

people
Interested in purchasing a group license? Email [email protected] with your name, location, church name (if using it in a church), and which license you want, and we'll reply with next steps.
To clarify, these licenses don't allow group members besides the leader to create an online Renovaré Book Club account. They allow the group leader to share Book Club resources with their group: schedule, podcasts, discussion prompts. We will provide a sharable link that consolidates all Book Club resources on one page (updated as they are released each week).
Other Questions